"If we have the technology, why not use it?"
28/9/2015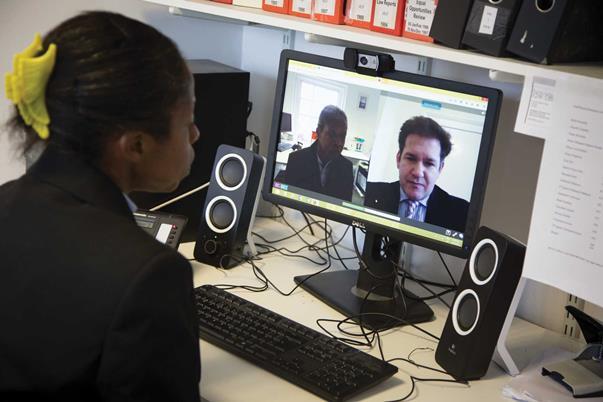 The Law Society Gazette has reported on a pilot initiative we have undertaken with Wigwham Legal Services and 1 Gray's Inn Square Chambers to trial advising HCLC employment law clients through online legal advice surgeries.
On Wednesday the 16th of September, 1 Gray's Inn Square Employment Barrister Fergus McCombie advised eight people who had visited HCLC's offices to seek employment law advice by specially created legal video technology.
HCLC's Employment Solicitor Diane Morrison (pictured above) and Business Development Manager Miranda Grell supervised the session. Miranda told the Law Society Gazette that the pilot was helpful 'because normally barristers are not contacted for an opinion until much further down the line and charge for providing one'. The session 'speeded up the process considerably and clients knew where they stood from the off', she said. 'We have got to find new ways of delivering services and advice to people who desperately need it,' Grell added. 'If we have the technology, why not use it?'.
Feedback from clients who attended the session was extremely positive, with one client writing:

Commenting on the pilot HCLC Chair Ian Rathbone said: "Our clients found it useful and we have to continue to find ways to make justice accessible to residents in a regime of harsh cuts to legal aid by central Government. I hope this IT development will mean that we can move on more quickly with cases and mean savings in barristers' fees and time taken for a case to be run. An earlier session with a barrister can also help the client establish directly the validity or feasibility of their case. My thanks to Wigwham Legal Services for working as our partner on this." HCLC is grateful to Jonathan Maskew from Wigwham Legal Services in particular for spearheading this exciting new initiative, which has the potential to benefit many more advice seekers living and working in the local Hackney area.
You can read the Law Society Gazette's full article about HCLC's and Wigwham Legal Services online pilot HERE.